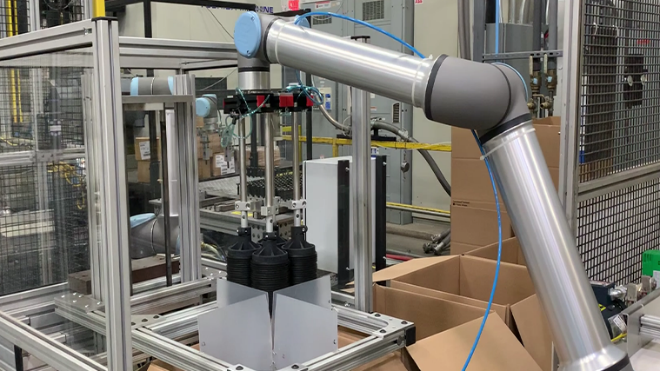 Cobots Are Reducing Injection Molding Costs
With gas prices and inflation soaring out of control, reining in costs is more critical now than ever.
In addition, recent workforce challenges have led to delays in products being manufactured and shipped, further driving up costs. At Deluxe Plastics, we are actively looking for ways to reduce injection molding costs, so we can help our customers reduce their total costs.
One way we manage injection molding costs is by using collaborative robots (cobots). Cobots are designed to share spaces with humans and produce productivity gains that benefit our customers. Cobots have helped us lower costs by reducing labor requirements, increasing throughput by maintaining a consistent pace, and reducing downtime.
Cobots are considered collaborative because they can work safely with people and immediately stop if they contact a human, making them safe for our workers to be around.
By using cobots, we're able to automate processes that are repetitive or aren't ideal for team members to complete, such as part placement/removal to and from the mold, de-gating, hot-stamping, and applying labels to products. Humans risk burnout from repetitive tasks, leading to mistakes and downtime. Repetitive tasks can often create injuries, like carpal tunnel, leading to lost time and placing additional strain on our workforce. The use of cobots frees up our team members to perform high-value work.
With cobots, efficiency and throughput increase because cobots can run without stopping. They can also keep a consistent cycle time, which helps ensure repeatable production rates and efficiency. This keeps our production schedule on track and may allow us to get products to customers sooner.
We currently have two six-axis cobots, and nearly all our injection machines are equipped with standard servo robots.
Case Filling Example: Injection Molding Cost Reduction In Action
The images below are of a new cobot recently added to our Clintonville facility.  The cobot is packing 64 parts into a final case for shipment to the customer. We make this part in three different lengths (5", 10", and  20"), and this automation will be used to pack all three sizes in the future.
In the past, the parts would be taken by conveyor to drop into a bulk-packed Gaylord.  That Gaylord would then be shipped to a creative workshop where the bulk-packed product would be repacked into the 64-pack cases that the customer desires. The case product was then shipped back to Clintonville for final shipment to the customer.
Since implementing the cobots, we have eliminated the additional shipping and reduced labor requirements, product cost, and lead time.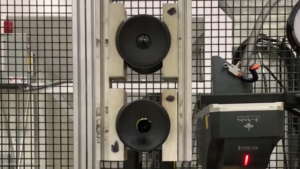 Once parts are molded, a sonic welder is used to remove the diaphragm gate (center portion) from the two parts that are molded each cycle.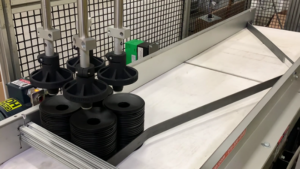 From there, four parts (2 shots of parts) are aligned on a conveyor where the cobot picks them up from the conveyor.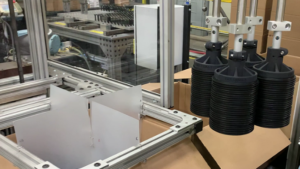 The cobot places them into a quadrant of the box. A divider breaks the box into quadrants, allowing parts to be packed in layers without catching on to each other.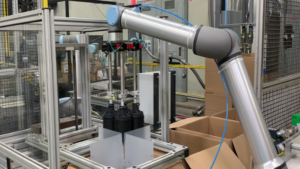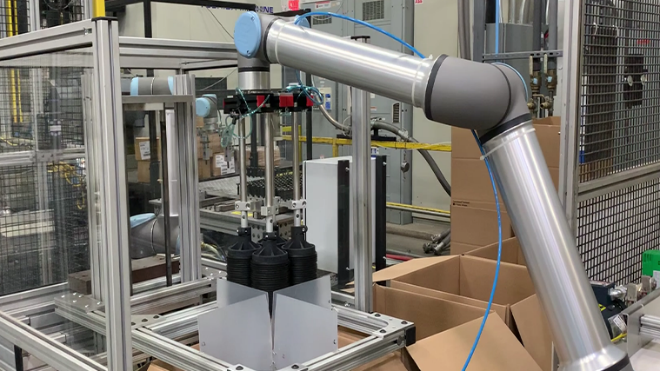 Each box holds 64 parts. The use of cobots creates consistency and reduces operator involvement with the job.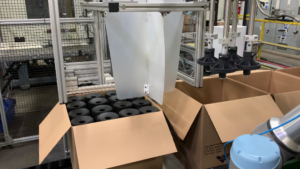 Once the case is filled, the divider is picked up for placement in the following box, the full box is indexed to an exit roller conveyor, the next box is moved into place, and the filling begins again.
Ready to Reduce Your Total Costs for Injection Molded Products?
We know that costs are a factor when choosing an injection molding partner. With a focus on innovation, we strive to provide high-quality products on time and competitively priced. We have in-house mold building and maintenance capabilities to provide quick turn-around on tooling, further reducing lead times and allowing you to receive revenue-generating products sooner. Plus, we have a large resin inventory on hand and plastics experts to find alternatives if needed. And with just-in-time delivery, you get the products you need when you need them without the added expense of warehouse space.
Whether your project requires engineering support, tool building, molding, secondary operations, metal stamping, or assembly, we can deliver quickly and efficiently.
Connect with us to learn more about our services or get started on your next project.